All of our workshops are open to anyone interested in personal growth or professional training. Our highly qualified faculty is composed of many well-known therapists, teachers and our own graduates. We offer CEUs for Gestalt Life Coach Certification and LCSW counselors. Join us. Call us for more info about how Gestalt work can help you to live your life by design rather than default.

We offer weekend workshops on topics such as: Gestalt Theory and Practice, Personality, Psychodrama, NLP, Addiction, The Psychogenetic System™, Pre-Marital, Relationship, Couple, Family & Parenting Coaching; Forgiveness, Self-acceptance, Self-esteem, Intimacy, NLP Hypnosis, Codependency, Dreamwork, Grief, Meditation, and the popular Money Game and Flirting workshops as developed by the late Anne Teachworth.
(Note: Our general information is continued after our workshop listings.)
Some Examples of Our Past Workshops:
The Kitchen Table: Visiting Your Family History for Creating Your Better Future"
A Gestalt Life Coaching workshop

Presented by Tina Thomas, PhD, DCSW, LCSW, BSN, and Jeff Teachworth, CGT, CPCT, Certified Life Coach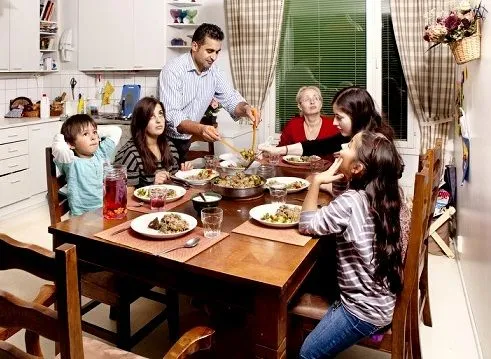 The holiday season can be a very stressful time for people especially as it relates to relationships. Many people grieve over holiday and family events of the past...

Others feel despair, loneliness, anxiety and depression when their lives do not match their idea of what the holiday season should be. Some are fine with the season itself but stressed by family and friends who bring their own set of challenges to the table. In general, there are roles we still sometimes play as adults that were originated in our family systems of childhood.
If you could somehow revisit your family of origin at your old kitchen table, and change your family history and therefore your future... Wouldn't you do it?
This workshop shows you how to accomplish this feat, leading to one of the popular sayings of Gestalt Life coaches, "It's never too late to have a happy childhood"- to which we add "and create an amazing present and future."
December 3rd/4th weekend: Saturday from 9 to 4 PM and Sunday 10 to 3 PM
Tulane University Campus, Lavin-Bernick Bldg
Room 209 Saturday and Room 210 on Sunday
Email: [email protected] for more info or to register

Map of Location of Workshop Our Gestalt Home Page

Notes: We recommend you wear comfortable casual clothing .
Free parking on weekends in all public spots not marked "Reserved".
Regarding food , there are vending machines on the bottom floor
of the University Center building where we are meeting.
There is also a newly reopened Food Court in the UC with
sushi, tacos and burritos, salads and greens, wings, bagels, subs, etc.


Shamanism, Jung and Campbell: "Waking into the Modern World"
A Gestalt workshop on Shamanism, conceived and presented by Jeff Teachworth, CGT, NLP, CPCT, Asst. Director
Gestalt-Institute.com ۞ 433 Metairie Road, Suite 113 ۞ Metairie, LA USA ۞ (504) 931-9022
Today's world is nowhere near as natural and nurturing as in the past...
Native Americans' buffalo seem replaced by 18 wheelers, the Druid's sacred oak trees replaced by concrete skyscrapers, intuition replaced by multimedia. For modern man, it's a struggle to feel grounded yet always connected to our Higher Spirit Self. How do we rekindle the harmonic flow between worlds? Ancients knew - they visited with avatars and ancestors, shared kinship with animals, and celebrated the songs of Mother Earth. They experienced blissful alignment of both their natural and supernatural energy bodies. Using higher abilities we all possess, they integrated the worlds of sense and intuition. And so can YOU!

Shamanism is the state of being connected to non-physical worlds thriving with transformative energy. A Shaman's inner awareness expands far beyond measure of scientific instruments, to integrate the "Higher Self" and utilize its spirit senses. Higher consciousness energy is streaming all around us, and so this channeling is made possible by honoring methods such as taught by the Wise Ones of Old.

Utilizing a Shamanic style framework, but aided by the words of Joseph Campbell, the depth psychology of Carl Jung, and the methods of Gestalt - we will journey through the Higher World to integrate our spirit-bodies, reconnect with the guidance of our departed Ancestors, and heal our own inner wounds. We will then be reborn back into our earthly lives, transformed and evolved into the empowered shamanic selves we desire to be.

Changework is personal for each of us, but a general description might well read:
"Spirit-Walking Medicine-Bearers Honoring Earthly Empowerment".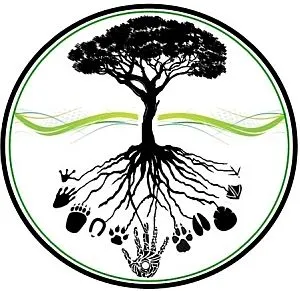 This workshop will explore Shamanic Approach to Higher Self Rediscovery and Healing including:
Introducing Shamanic Terminology and Principles used in workshop
Clearing the Magic Circle of our workshop space for safety and protection
Consecrating and dedicating the Circle for positive productivity
Holding a Rainbow Ceremony to invoke the supportive presence of our ancestors
Reowning our positive power-areas of confluence unique to each participant
Practicing Active Imagination, Lucid Dreaming and Trance Formation
Journeying through trance into the shamanic underworld
Invocation of each participant's Inner Shaman, and the Assignment of Tools
Renewing our alliances with special power animals
Adventuring and exploring conscious and unconscious belief worlds
Forging personal empowerment and life harmony
Creating and receiving shamanic healing
Utilizing modalities and principles shared by Jungian and Gestalt Theory
Playing primitive native instruments together uniting spirits and mindfulness
Transmuting our Medicine Circle into a personal symbol of protection and production
Understanding and accepting the pride of continuing our personal "Hero's Journey" in our lives
Recognizing each member as a Shaman realigned in both natural and in spirit bodies
Receiving a Tribal Totem and a Certificate of Accomplishment for completion of workshop
Workshop is Sunday January 17th 2016 from 1-4pm at our office: 433 Metairie Road, Suite 113 (Lobby Level), Metairie, LA 70005 USA, (504) 931-9022 or

[email protected]


Click the button above...

Pre-registration discount by January 16th is $40 - or $50 at the door. Space is limited.
People Helpers of all kinds: this is simultaneously a psychology concepts workshop.
For more information please e-mail
[email protected]
or call us at
(504) 931-9022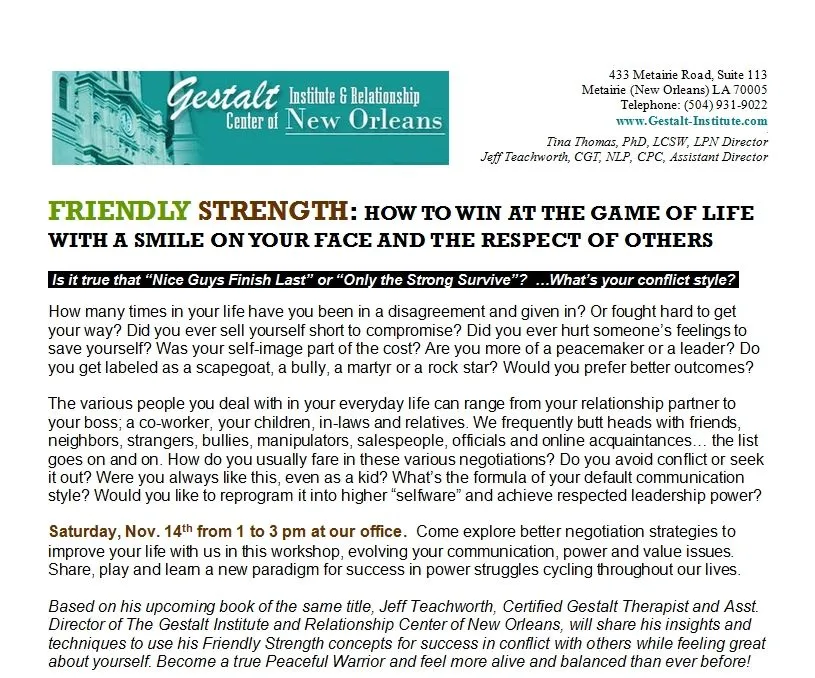 Click the button above...

Pre-registration discount by Nov 13th is $30. On Nov. 14th you may pay $40 here or at the door. Space is limited.
GINO Trainees, this is an important concept workshop, and you can add to your credited hours.
For more information please visit Gestalt-Institute.com or call us at (504) 931-9022

Saturday, March 7th 2015 from 12 - 4 pm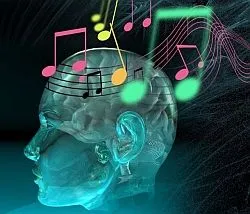 "Don't You... Forget About Me"
A Gestalt Songworking Playshop
"Don't you forget about me." said the Unconscious to the Conscious Mind, although that's exactly what it has to do to keep us functioning in the tasks of our daily lives. Yet, how can our Unconscious Mind, that vaster part of the "iceberg under the water", reveal an issue it's struggling to process, in such a way that it "floats up to the surface" to appear in our Conscious Mind?

One such method is what we like to call "Songworking"

Our presenter will be Jeff Teachworth, Certified Gestalt Therapist (1987) and Transformational Life Coach (2003), Assistant Director of The Gestalt Institute and Relationship Center of New Orleans. Our musician co-presenter will be Keith Burnstein, MAT, professional singer and songwriter, music instructor and founding member of the band "The Mumbles".

"Songworking" is the process of using active imagination to discover the deeper images, feelings and words inside yourself and of crafting them into your own personal song (or poem). By striving to arrange these primal elements into structured verses, we can distract our Conscious Mind's blocking defenses so we can uproot our own unfinished psychological content. The resulting song expressing our unconscious material can then be worked with for personal meaning and growth using Gestalt and other transformational life coaching techniques.

To begin, Jeff will make a short presentation about Gestalt theory relating to the goals of this workshop's process of self discovery. Next he will introduce Keith, who will share his own musical journey of self expression and techniques of songwriting. A variety of popular songs will be discussed to illustrate the different methods of self expression available.

A demonstration of a song being created by Jeff while mentored by Keith will reveal how to use the Songworking process to harvest images and experiences from the unconscious. Watch as they work together to go from a few words and images into an arranged structure that becomes the basis of an actual song, as well as learn to compose your own.

The group will progress through a series of exercises in the songwriting process to inspire the beginnings of their own personal songs. Step by step they will create their own song with the expertise of Keith Burnstein; and use the tools of "Gestalt Songworking" as conceived by Jeff Teachworth to gain personal insight and growth. Previous music experience or having to sing is not required of participants.



We use PayPal for secure online payments as one method of registering for our workshops .

GESTALT INSTITUTE, 433 METAIRIE RD., SUITE 113 GROUND FLOOR, METAIRIE 70005
Attain the power to reduce stress, help alleviate symptoms of PTSD, ADD, anxiety, fear issues, pain and more.
Reconnect with your Higher Self and become more than you dreamed. Open your gateway to joy & peace.

Come learn how to journey to your own magical place in the now with inner world of spirit.
"WALKING IN BOTH WORLDS"
A Shamanic Journey TO YOUR INNER SACRED MEDICINE PLACE
October 4 th 2014 10-3 PM $65 Pre-registered, $75 day of workshop – Register at Gestalt-Institute.com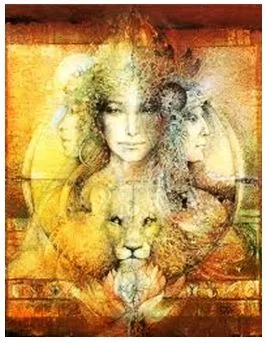 Using ancient Native American shamanic practices, our long-time Gestalt Institute of New Orleans senior staff member Judith Kopfler Ph.D teaches you how to create a permanent shamanic Sacred Space within your higher self and the means to access it on command. Learning these powerful inner journeying techniques will empower you to access your own personal Medicine Place , your own protected inner magical sanctuary. Explore your unconscious and create new states of being. Alter your perception of the world, bringing in more love, freedom & peace.